Figures obtained by The Independent spark concerns the criminal justice system is failing victims of violent abusers
Click to follow
The Independent Online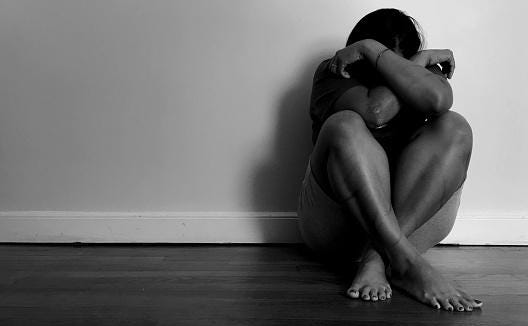 Police forces have been accused of failing to punish perpetrators of domestic abuse, with new data revealing that charges plummeted by more than 10 per cent in just one year, even as the number of alleged incidents rose.
The figures, obtained by The Independent from 18 of 43 police forces in England and Wales, have prompted women's rights advocates to condemn the "decimation" of support services and to warn that "something is clearly going wrong" with the policing of such crimes.
Across the forces that provided information, the number of reports of domestic abuse surged by more than 13,500, from 431,000 to 444,600, between 2015 and 2016, but charges brought by police slumped from 60,700 to 54,800.
The biggest downturn in charges was seen in Manchester, where 1,700 fewer cases of domestic abuse were referred for prosecution in 2016, a fall of 25 per cent on the year before. Reports of domestic abuse remained roughly the same across the two years, and the fall follows five years of progress on the matter with charge rates steadily rising.
The figures come after the Prime Minister, Theresa May, launched a consultation into the handling of domestic abuse cases designed to improve prosecution rates for the crimes across the country. She announced in March that she would personally oversee work to clarify existing laws and raise public awareness of the issue.
A report by Her Majesty's Inspector of Constabulary last month warned that budget cuts were putting policing into a "potentially perilous" state, warning that forces were putting the public at "unacceptable risk" by failing to properly investigate crimes.
Evidence emerged that officers were re-categorising domestic violence cases so that they did not qualify as high risk, the report found. A 2014 report by the watchdog found "alarming and unacceptable weaknesses" in police work on domestic abuse cases, particularly in relation to the collection of evidence at crime scenes.
Since 2010, 17 per cent of specialist refuges for domestic violence victims in England have been cut, according to charity Women's Aid, despite repeated vows by ministers to improve outcomes for victims.
Polly Neate, chief executive of Women's Aid, said: "We are seeing specialist support services decimated by poor commissioning practices and funding cuts up and down the country. These services are essential both for survivors to recover and for the police to do their job better.
"The criminal justice system is only one element of the response to domestic abuse and without support for survivors to recover, not only will women and children continue to suffer and be in danger, but also we will never see more perpetrators brought to justice."
Ms Neate warned police were too dependent on testimony from victims, rather than building a strong body of proof against perpetrators. She added: "There needs to be improved understanding around the barriers facing victims. It can be very dangerous for a victim of domestic abuse to press charges, if she isn't safe and supported.
"There is a significantly heightened risk for women in the first year after separation from a perpetrator and we know that two women a week on average are killed by a partner or ex-partner in England and Wales."
Sarah Champion, shadow Secretary of State for Women and Equalities, said: "It is extremely concerning that the number of charges for domestic abuse has fallen, despite the number of reports to the police rising.
"Something is clearly going wrong in the system and I am worried that it could have a damaging effect on victims confidence to report in the future.
"Victims of abuse often suffer multiple incidents over a prolonged period of time before finally reporting to the police. This makes it all the more vital that women feel confident that when they report domestic abuse, they will be taken seriously and their words acted on.
"The Government has questions to answer on whether cuts to frontline policing are preventing the police gathering necessary evidence and charging perpetrators of abuse.
"Likewise, the Government must provide the resources local authorities desperately need to support women escaping abuse and for the CPS to seek successful prosecutions."
In London, which has the most cases of domestic abuse, reports of such crimes jumped by more than 2,000, from 72,535 to 74,770, between 2015 and 2016. But over 600 more alleged abusers escaped police charges in 2016 than the year before, with the volume of charges dropping from 15,694 to 15,010.
Derbyshire saw a 17 per cent rise in reported incidents, from 6,122 to 7,215 over the same period, but also recorded a 30 per cent drop in charges, from 2,004 to 1,403. In Gwent, the number of charges dropped by 28 per cent (from 1,119 to just 806) despite only a modest drop in reported domestic violence cases of 6.8 per cent (from from 11,929 to 11,115)​.
Durham, meanwhile, recorded a small rise in reported incidents, from 15,070 to 15,154, but a large drop in case charges, down by 17 per cent from 1,497 to 1,240 in a single year. Thames Valley Police saw a rise in domestic violence reports of 7.6 per cent, from 43,466 to 46,773 over the same year, but its charge rate dropped by 4 per cent, from 3,123 in 2015 to 2,996 last year.
Jess Phillips, MP for Birmingham Yardley, said: "Local commissioning of support services who help police is now so patchy that cracks appear.
"Local council cuts and a race to the bottom by councils funding the cheapest non-specialist providers means that victims are left poorly catered for.
"This must be addressed as victims who come forward and fail to secure convictions of their perpetrators will likely never report again, increasing their risk and decreasing their safety —sometimes with fatal consequences."
Emma Pearmaine, director of family services at law firm Simpson Millar, who campaigns against domestic abuse, said cuts to state-funded legal assistance were partly responsible. "Domestic violence and coercive control is a debilitating issue for thousands of women especially, across the country," she said.
"Victims who live with their abuser are particularly vulnerable and at risk of further harm after they have reported the violence. All victims need a huge amount of practical and emotional support to maintain an accusation through to a prosecution.
"A cut in the legal aid budget has had a negative impact on the level of access people have to legal advice; this could now be having serious implications for abuse victims."
A Home Office spokesperson said: "We are committed to tackling domestic abuse. More abusers are being brought to justice than ever before and the new controlling or coercive behaviour law provides better protection to victims trapped in cycles of abuse.
"While prosecutions and convictions for domestic abuse are at their highest ever levels we know there is more to do. That is why HMIC is continuing to look at police response to domestic abuse and why the Government has launched a new programme of work that will lead towards a Domestic Violence and Abuse Act."
http://www.independent.co.uk/news/uk/crime/domestic-abuse-police-charges-fall-cases-rise-fear-for-victims-a7663036.html