Why Men Need To Get Behind The Istanbul Convention Bill
Stay Brave UK is on a mission. We exist to bring a voice to those who have suffered from violence. We speak out when victims think they are voiceless. Our founding principle is to campaign to ensure that nobody, regardless of gender, is denied access to support.
We know that men are much less likely to report domestic abuse, or seek support. It's why support often doesn't exist. Men, trans and non-binary people can face discrimination when accessing services. I know that, I was one of those that was turned away from getting support because of my gender.
Our politicians have a great opportunity to remove any discrimination in the way in which services are delivered to everyone in a bid to combat and ultimately eliminate domestic and intimate abuse.
On Friday, the House of Commons will vote on legislation which has been hailed as the most comprehensive violence against women policy that's ever been written, anywhere. But, crucially, it can be the best piece of legislation for tackling all forms of domestic violence – support men, trans and non-binary people too.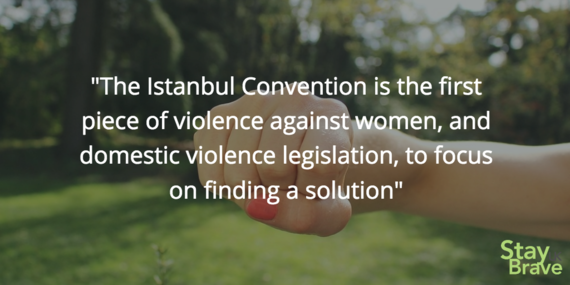 The Istanbul Convention is the first piece of violence against women, and domestic violence legislation, to focus on finding a solution to an abhorrent human rights abuse by forcing governments to work across departments to combat intimate abuse.
It is, to my knowledge, the only piece of policy that explicitly calls on Government's to take necessary legislative and other measures to promote and protect the right for everyone to live free from violence in both the public and private sphere. It goes on to say that the implementation of the provisions of the Convention protect the rights of victims, and shall be secured without discrimination on any ground – including sex.
The focus on ending violence against women is important, because it recognises the global pandemic of injustice. Gender inequality is abhorrent. It creates a world where power, money and strength become motivators for systemic violence.
Ridding the world of gender inequality will, I believe, curb the increase in intimate abuse. I want to live in a world where no one is shamed because of their body, the money they earn or their perceived gender. The Istanbul Convention is the vehicle for tackling gender inequality, and that's why I support it.
Men, women, boys, girls, trans and non-binary people all have a role to play to make society a fairer place. Nobody should stand in the way of progressive legislation that empowers society to tackle violence. There have been moves by a select few Tory backbenchers to scupper the Bill. They claim to be talking up for men who face domestic violence or sexual abuse, but fundamentally they are missing the point.
Men, and the victims of abuse, have so much to gain from the UK Government finally ratifying the Istanbul Convention, and we should do everything in our power to tackle every kind of emotional, physical and intimate abuse, whilst providing support for the victims to Stay Brave.
http://www.huffingtonpost.co.uk/alexander-morgan/why-men-need-to-get-behin_b_14929134.html